Without her, you would be lost. She taught you how to tie your shoes, when to say "thank you," and how to love. She made you feel better with chicken noodle soup whenever you were sick. She was there to congratulate you on all your accomplishments and offered a shoulder to cry on during those tough breakups. She's your cheerleader, your hero, your best friend. Yep, that's right, we're talking about the one lady who has always been there for you, and always will be – your mom.
On May 8, it's time to honor the most important woman in your life in by doing something out of the ordinary, something you've never done before. Are you running out of ideas? That's OK because Teleflora did the work for you. And with every gift, be sure to send her a beautiful bouquet of our Mother's Day Flowers for an extra special touch. After all, you can never go wrong with colorful blooms!
This year, celebrate mom with these three special gifts:
1. Make a photo album
Your mom has plenty of photos stuffed in shoeboxes that have been hiding in your basement. For years, she's been talking about compiling the pictures to create a photo album for each of her kids, ranging from birth to major life events. Your mom has never been a great organizer, hence all the boxes stuffed with an array of photographs. Before Mother's Day rolls around, head down to your mom's basement, find your specific shoebox and create an album. Consider gathering your siblings to join in on the album making, too. This is a great way to reinforce family values, as you and your siblings can block out an entire day to make the albums for her. Get creative and include all those silly selfies you have on your phone, too!
And you know what goes great with a photo album? A brilliant bouquet of roses – you can't go wrong. Show your mom some love with the newest Mother's Day arrangement, Teleflora's Love And Joy Bouquet. This delightful bouquet includes hot pink roses, pink miniature carnations, lavender stock, lavender cushion spray chrysanthemums, white sinuata statice, and huckleberry.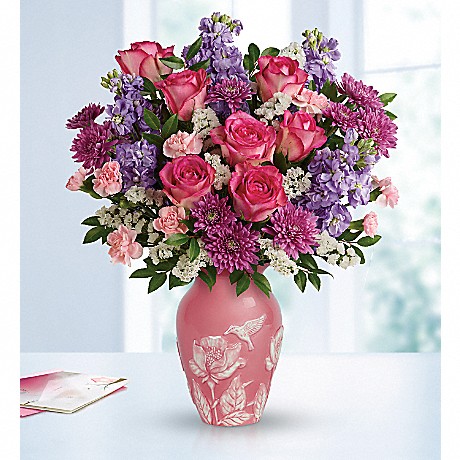 2. Plan a surprise getaway
Your mom is one busy lady – always working late so she barely has time to plan adventures for herself. Instead of her taking the time out of her hectic day to plan a trip, do the research and plan a surprise getaway for her. You always hear her talking about how she wants to step out of her comfort zone and go hiking out West, so look into trails and paths, and map something out for her. Once all the fine details are tuned, present your mom with Teleflora's lovely Cotton Candy bouquet and attach a note that reads:
Pack your bags, it's time to go
To a place that has no snow.
You're going on a hike, you don't need your bike.
Get ready to explore West, it truly is the very best!
It's time you relax to relieve some stress.
It's time to dip, so board the ship.
Happy Mother's Day, enjoy your trip!
Once she reads the note, hand her the tickets and the completed itinerary – she'll be thrilled!
3. Fill her garden
You know how much your mom loves having a blooming garden with radiant flowers and fresh foliage, but she has been just way too busy lately to do the work herself. The perfect time to do this is when your mom's at the office, so take a day off and channel your inner green thumb. Commission your siblings, significant other or kids to help out, too. The more the merrier and the quicker the garden will start to grow. Plant an array of all your mom's favorite flowers. Line the walkway with multicolored tulips to create a welcoming vibe as she walks through her garden. It'll be like you gave her a year's supply of flowers!
However you decide to celebrate Mother's Day this year, your mom will appreciate any gift that comes from the heart.