As Thanksgiving rolls around, you're likely already aware of your plans for the holiday. You may be having a gathering all of your own, or maybe you're visiting a relative from out of town, or even opting for a Friendsgiving get together with the friends in your city. If you'll be celebrating Thanksgiving in someone else's home this year, you'll want to ensure you bring along a gift for your host. Not only is this a token of your appreciation for having you over, but many of these gifts make his or her job easier. Here are a few popular Thanksgiving host gifts to keep in mind before you indulge this season:
Gift Flowers for Thanksgiving

Any host will appreciate a gorgeous bouquet or centerpiece for his or her efforts. Many times, your host will be so inundated with cooking and baking duties that any sort of aesthetic aspect is the last thing on his or her to-do list. Taking the initiative to supply him or her with decor will be much appreciated.
If you're traveling, you may be concerned about making sure your flowers are still in tip-top shape when you arrive. A great way to avoid this problem is to have your flowers delivered right to your host's home, or to the hotel you're staying at in town. Whether you choose an Autumn Gathering Centerpiece or a versatile Fall Fantasia bouquet, your host will place it on the table or windowsill and be able to get right back to work!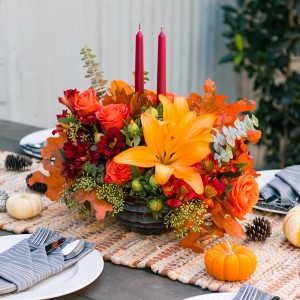 Gift Wine for Thanksgiving

Wine has always been a classic gift for hosts, no matter what sort of party is being held. There are many ways to go about gifting it. If you're close enough with the host to know his or her favorite wine – or beer, liquor or other beverage – be sure to bring that. Chances are, it'll be consumed by the rest of the party, but it's polite to make a point to bring the host's favorite. If you're not aware of his or her wine of choice, it's always a safe bet to choose a wine that pairs well with a Thanksgiving dinner. Better Homes and Gardens says that if you choose a bubbly wine, be sure it's a dry one rather than a sweet variety. Here are a few more of BHG's Wine guidelines:
White wines: Viognier, Chenin Blanc, Sauvignon Blanc, Riesling, Gewurztraminer.

Red wines: Pinot Noir, Syrah, Zinfandel, Beaujolais.

Dessert wines: Muscat, Port, Sauternes, Asti Spumante.



Gift Food for Thanksgiving

At first thought, it may seem counterproductive to bring food as a host gift on such a food-heavy holiday. However, there are many reasons that it would actually be very appreciated! The first option is to bring a side dish or dessert for the holiday meal. Let your host know ahead of time, so he or she won't have to worry about baking a pie or making a green bean casserole. If you tell your host you're bringing something, though, you can't flake at the last minute! Be sure to follow through.
Another great way to incorporate food into your host's gift is to bring breakfast. Chances are, your host won't want to cook a delectable breakfast for his or her family the morning after hosting Thanksgiving, so make it easier on him or her. Make some cinnamon rolls that can be popped in the oven or a quiche you made specifically for the occasion.
Hosting Thanksgiving is a big job! Showing your gratitude, with even just a small gesture, will go a long way and show your loved ones how much you appreciate them and their hard work!