Just because the holidays are around the corner doesn't mean that we have to leave the idea of flowers behind. There are multiple ways that you can work your favorite blooms into your holiday decor and bring festive cheer into your home. Here are a few DIY ideas that you can get a head start on before Thanksgiving rolls around and might just spark your creativity this season:
DIY Holiday Candle Holders
What's Christmas decor without incorporating some candles into the mix? Certainly not a merry and bright one! Whether you light them for their pleasant scent or just enjoy their elegant aesthetic, you've probably decorated with candles at one time or another during the holiday season. There are even a few ways that you can incorporate flowers into your candle decorations.

If you have some tall candlesticks that you've simply grown tired of or that no longer match your home's look, turn them into holiday decor with just a couple of tweaks. Visit your local craft shop and keep an eye out for garland that looks like evergreen needles, and pick some pinecones up while you're at it! Wrap the garland around the candlestick until it's reached your desired thickness. Fix pinecones, berries and seasonal flowers like poinsettias, mistletoe and white roses to the garland with a hot glue gun. Consider spraying the tips of the fake needles with white spray paint as well to give it a "just snowed on" look.
If you prefer to decorate with pillar candles, you can make a candle surround. Follow the instructions above only leaving a big enough hole in the center for the candle. Don't allow the garland to come up too high on the candle, though, so it doesn't catch on fire when the wax begins melting down.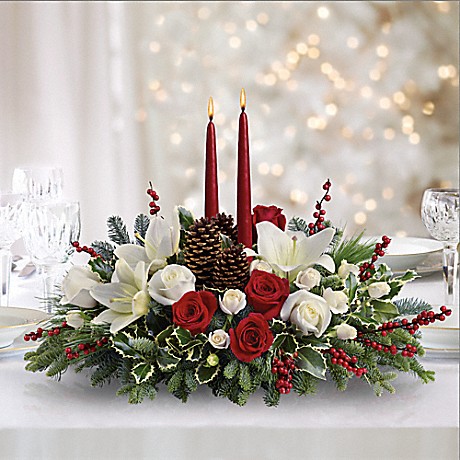 DIY Christmas Floral Wreaths
Wreaths are one of the most popular Christmas decorations, but they have a tendency to be expensive. Instead of buying a wreath that everyone else on your block will display on their front doors, try making your own. You can even give it a vintage aesthetic by pressing poinsettias before fixing them to your faux wreath, to enjoy year after year.
To make a wreath, use two wire coat hangers, bent into round shapes. Use faux evergreen garland, or even fresh greenery if you don't plan to keep the garland past this year and either wrap it around the wire, or use floral wire to fix it to the hangers. Do this until the wreath is as lush as you want it, then begin using the floral wire, and hot glue to attach berries, holly and flowers. Don't hesitate to incorporate some glitter or ribbon into the mix as well!
Press your poinsettias by following instructions from Frame Warehouse. Try pressing the poinsettia bloom in a heavy book by covering each side of the flower with paper – so the pages of your book don't turn red – and leaving it for a few days. You can also fix your flower between two pieces of cardboard and tape them together. Hang this cardboard in front of a sunny window so the heat helps dry your flowers out.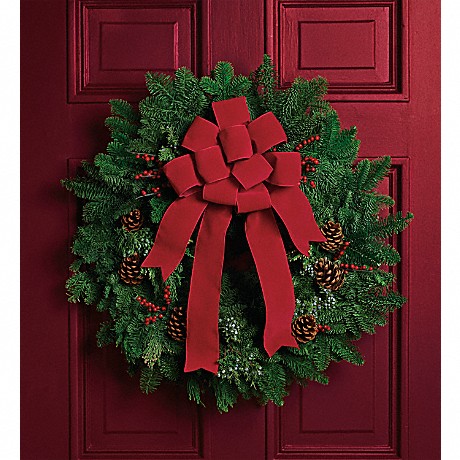 DIY Vases for Holiday Flower Arrangements
If you want to display your winter flowers in a seasonal vase, look no further than Teleflora's Christmas flower arrangements. You can make your own custom vases as well, by wrapping birch bark around plain vases, or gluing twigs to them and tying a cute plaid ribbon around it. If you want to go for more of a kitschy holiday vibe, simply wrap red ribbon around plain white vases to make them look like candy canes! These would look best with bright red flowers, baby's breath and plenty of lush greenery.
Flowers are the perfect way to bring color and festive cheer to any room this holiday. Makes thing calm and bright by pairing your favorite seasonal blooms with one of our holiday DIY projects above or order a Christmas flower arrangement or holiday centerpiece, both which are hand-arranged and hand-delivered by local florists. Have any more ideas? Share below.