Spring is bursting with color left and right, which is only one of the things we look forward to when the season comes along. One of our other favorite parts about the warmer weather is seeing the emerging trends in fashion, beauty, and home decor. While many flowers are in style year after year, there are definitely some trends you can see popping up that are a must-have this year. Here are spring 2017's hottest flower color trends and corresponding Teleflora bouquets:
Aqua
Variations of aqua, including teal and turquoise, are all popular this spring. They're associated with healing, clarity, harmony and balance. Since so many versions of teal are trending, you can choose whichever shade you prefer, from pale to saturated and bluer to greener. Use teal in work spaces to help you focus or in a bedroom to introduce peace.
Enjoy bright sunny flowers in an aqua vase, that  you can use to decorate later on, in Teleflora's Golden Laughter Bouquet.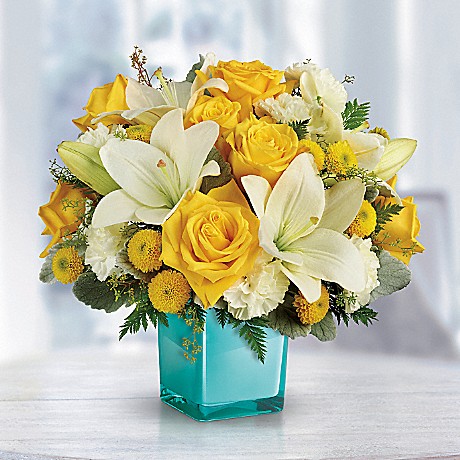 Rich Purple
Purple is the color of luxury, royalty, mindfulness and spirituality, and it's in this season, particularly in deep shades. Saturated hues add depth and warmth to your decor while helping you feel calm. Choose a space in your home where you want to feel relaxed and safe – your bedroom or reading area is perfect – and decorate with purple.
Bring spring indoors by ordering purple flowers. Teleflora's Passionate Purple Tulips bouquet is a prime example of the season's trending hue. Not only that, but tulips are a popular flower this time of year. Their cheerful demeanor can bring warm weather and sunshine to mind.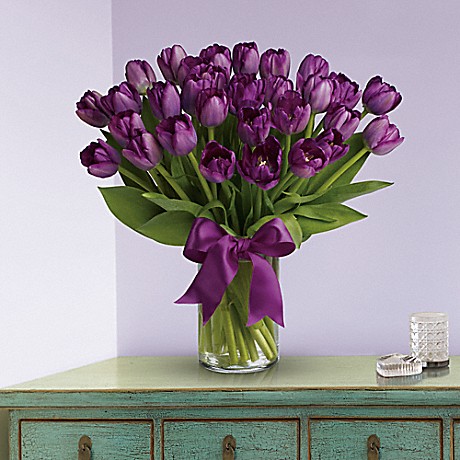 Violet
Violet, while often mixed in with purple, is in fact it's very own color. It's a bluish/purple, like that of lavender or amethyst. As such, violet is more subdued and has a strong calming effect. However, this color isn't all about relaxing. It's also the shade of imagination, optimism, dreaming and escape. It's perfect for creative spaces, like a home office or work room. Whether you paint, write, play music or build, violet can support your efforts by creating the right atmosphere.
When it comes to flowers, violets are the obvious way to enjoy the color. Teleflora's Dancing Violets Bouquet pairs violet floral patterns on a cube vase with mums, carnations, and greenery for a inspiring and beautiful bouquet.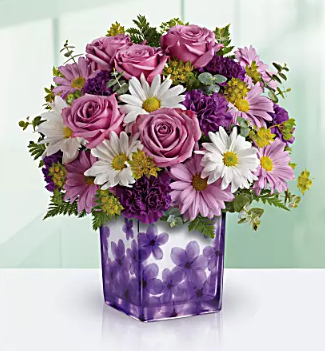 Fuchsia
Fuchsia and hot pinks of any kind are energetic, nurturing, feminine and compassionate. They also represent love and are naturally present during spring. Use pink in spaces where you want to feel tenderness and safety, like a bedroom or living room.
Teleflora's A Little Pink Me Up bouquet is true to its name: It'll bring a smile to your face. With a mixture of hot and softer pinks in the form of lilies, roses, gerberas and carnations, this arrangement is a spring must, particularly if you love the color.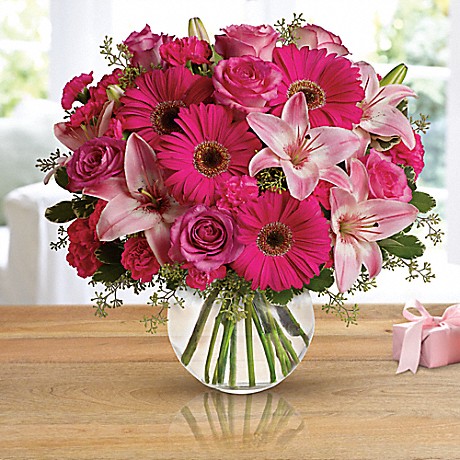 Spring Patterns
In addition to these colors, spring 2017 is bringing back two timeless patterns: floral and vintage china. The former gives you tons of decorating options, no matter what color your space is. The latter brings together blue, green, and white shades. This new trend offers a fresh new twist for the season with older patterns and colors brought back to life.
Enjoy both by decorating with Teleflora's Splendid Garden Bouquet and then have a beautiful watering can to use in the garden or as a vase in the future.