As May quickly approaches, you're likely looking for gifts for Mother's Day, but don't forget about another motherly figure in your life, your grandma. Finding ideas for grandmas for Mother's Day can feel overwhelming, but even something simple can make her day.  
Here are 10 great ideas for grandmas for Mother's Day, to put a smile on her face this May: 
1. Chocolate
If your granny's got a sweet tooth, give her a nice big box of chocolates. She'll love the creamy caramels, nuts and fruit dipped in chocolate. Not only has chocolate been shown to make you happier, but it's also good for the heart – and you can never give too much heart-filled love on Mother's Day.
2. A Massage
Treat your grandma with a stress-relieving massage on this special day. It can help loosen the knots in her back and soothe muscle pain. Before settling on the gift card, make sure your grandma is comfortable with getting a massage, and that she doesn't have any health problems that might be an issue. Massage for Mother's Day? It practically rolls off the tongue.
3. A Spa Day
If a massage doesn't fit the bill, spoil your grandma with a day at the spa. Check for special deals or packages to cut down on costs. She might enjoy an exfoliating scrub, moisturizing treatment or facial peel. Considering all that mothers do for their loved ones throughout the year, a day to relax is certainly in order.
4. Bouquet of Flowers
Nothing says I love you like a bouquet of fresh Mother's Day flowers. Teleflora's Full of Love Bouquet will bring a smile to her face, as this vase comes brimming with tulips, roses, carnations and waxflower, accented with variegated pittosporum and pitta Negra. Or, if your grandma gets vivacious over velvet, consider the Enchanted Cottage Bouquet, where the purple stock meets white roses, waxflower and green pitta Negra. With an elegant English garden appeal, it's sure to impress!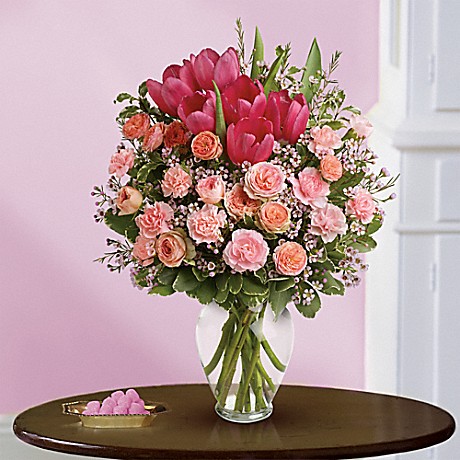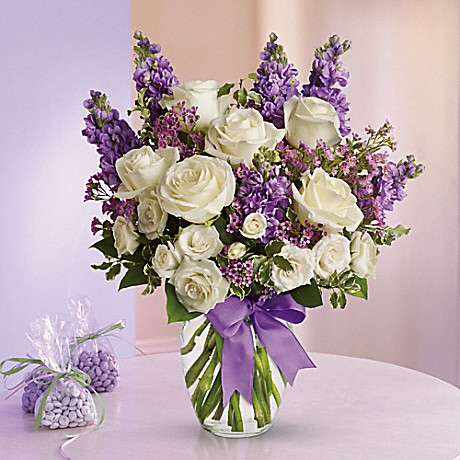 5. Surprise Her
Considering all of the presents your grandma has likely given you over the years, it's a great idea to give her a present of her own by surprising her this Mother's Day. Talk with relatives to find out where she is going to be, and show up with flowers or chocolate. She will be delighted to see you.
6. Take Her Out to Eat
Bring your grandma to her favorite restaurant for Sunday brunch or dinner. Regardless of whether it's a buffet or fine dining, it will make her happy to simply share a meal with you.
7. Wine Gift Set
Swishing fine wine in a glass is one of the great pleasures of life. Give your grandma the opportunity to discover new wines with a gift set. She might even add a bottle to her list of favorites.
8. Jewelry
You can't go wrong with jewelry, and an elegant necklace might be the perfect way to show her how much you care. Deliver it on this special day so she can wear it and show it off to her friends.
9. Spend Time with Her
At the end of the day, the best ideas for grandmas for Mother's Day involve ways to spend quality time with her grandkids. You are the apple of her eye, the best gift she could ask for. After giving her a genuine hug, relax and devote some downtime to your special lady. Playing cards, going out to eat or taking a trip to the movies are all options that never go out of style.
10. Call Her
Every grandma loves hearing from her grandkids. If you can't be with her in person, give her a call to see how she's doing. Before you say goodbye, make sure to tell her that you love her!
With all of these ideas for grandmas for Mother's Day, you can't go wrong. Your grandma will adore any gift that comes from her grandchild and that feeling is something she won't soon forget!