When a friend or family member has a new baby, the excitement is overwhelming. Chances are, you can't wait for your chance to meet the new bundle of joy but you don't want to show up empty handed. Since the new parents have likely received all of the supplies they need to take care of their new child at the baby shower, a baby present is meant to be more thoughtful than useful. A new baby flower bouquet is always a good option, especially if you aren't located in the same state or can't visit soon. Teleflora can make sure the flowers are delivered in a timely manner and looking beautiful. Check out a few tips when you are buying flowers for a new baby:
Picking Your New Baby Flower Bouquet

You may have known the baby's gender before he or she was born, or the parents could have wanted it to be a surprise. If the parents have already told everyone the baby's gender, maybe by hosting a gender reveal party or announcing the sex in an informal way, you may want to specifically deliver a bouquet of baby girl flowers or baby boy flowers. Bouquets made to celebrate the birth of a baby girl are complete with pink roses and lilies, white daisies and purple alstroemeria, and lavender in gorgeous vases and baskets. On the other hand, bouquets for baby boys utilize blue delphiniums and hydrangeas along with white daisies. These bouquets also come in vases perfect for the occasion; many complete with pink or blue ribbons.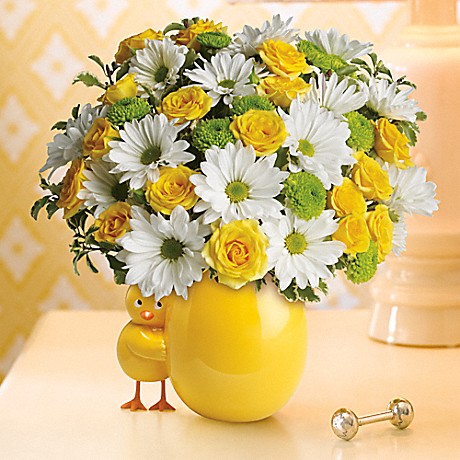 However, it's becoming increasingly popular to not place a lot of emphasis on a baby's gender. Just because the parents aren't making a big deal about whether their new bundle of joy is a boy or girl, it doesn't mean that you can't have a lovely bouquet delivered. Instead of choosing a specific "Baby Girl" or "Baby Boy" floral arrangement, choose a gender neutral bouquet complete with oranges, greens, yellows and reds.
When Not to Send New Baby Flowers

In most cases, a new mom and her baby will be in the hospital from one to four days after delivery. If you're very close with the mother and know when she will be discharged from the hospital, feel free to have flowers delivered right to her hospital room. The first couple of days with a new baby can be a real whirlwind, so she would surely appreciate some cheer in her hospital room. However, there are times that you should hold off on having flowers delivered to the hospital. If there were complications with the delivery or if the baby was in the NICU, you don't want to have flowers delivered. The doctors and mother would likely prefer to keep the room as sterile as possible, and flowers can bother the baby. If this is the case, it's advisable to wait a couple of weeks and have the flowers brought to the new mom's home after that. After a couple of weeks, chances are, the baby will be doing well and the mother will be up for accepting deliveries.
Sending flowers is the perfect way to welcome a new addition to anyone's life. If you want to make it extra special, write a custom message inside the card that can be kept forever. Check out this list of card message suggestions if you need any help!